SMOKE VENT
ESW-50REM 1260x1260mm
BILCO Natural Smoke and Heat Exhaust Ventilators are manufactured to comply with all the latest regulations including the Construction Products Regulation 305/2011. All standard vents are supplied CE-marked and with a Declaration of Conformity, and are manufactured to meet the demands of Building Regulations, Approved Document B, BS9999 and BS EN12101-2.
Natural Smoke Ventilator Models: ESW-50REM and ESS-50REM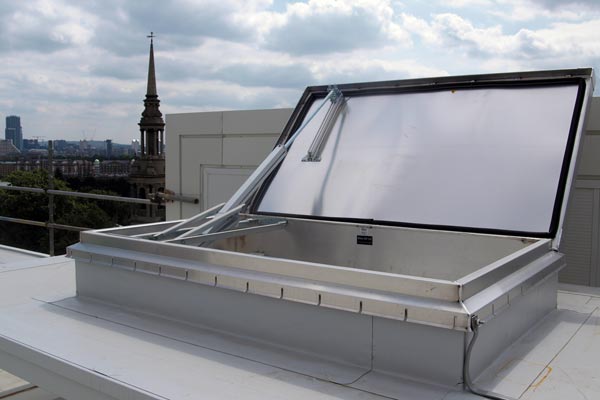 FEATURES / BENEFITS
Linear actuators open the covers to the fire open position of 90 degrees within 60 seconds.
Curb-mounted junction box with terminal block enclosed for power cable connection.
Built-in wind deflector to protect open vent against wind loads.
Newly-designed closed-cell EPDM sponge gasket, helps meet Building Regulation air leakage targets by providing a better seal of the cover to the curb, ensuring complete weathertightness.
Entire vent is weathertight with fully-welded corner joints on cover and curb.
Fully-insulated cover and curb ensures maximum energy efficiency.
Curb features the Bil-Clip® Flashing System, an innovative method to quickly and easily secure single-ply roofing material to BILCO roof products.
STANDARD SIZES
ESW-50REM 1260x1260mm
Overall size: 1488x1488mm / weight: 140kg / clear vent area: 1.0m²
ESW-50REM CL (with curb liner) 1260x1260mm
Overall size: 1488x1488mm / weight: 150kg / clear vent area: 1.0m²
ESS-50 REM *SPECIAL*
(Fabricated to special size requirements)
PERFORMANCE STANDARDS
ESW-50REM
| | |
| --- | --- |
| FREE AERODYNAMIC AREA | 1.0m² |
| RELIABILITY | RE 1000 (10,000 if used as day to day ventilator) |
| SNOW LOAD | SL400 |
| LOW AMBIENT TEMPERATURE | T (-15) |
| WIND LOAD | WL 1500 |
| RESISTANCE TO HEAT | B 300 |
DOWNLOADS
ESW-50REM
EXTERNAL RESOURCES / LINKS